Bike Slovenia Green: Gourmet Route
Description
The Bike Slovenia Green Gourmet Route (BSGGR) is the perfect itinerary for ever-evolving global travelers who demand everything: pleasure, adventure, and responsibility. Combining food, Slovenia Green-certified destinations, beautiful and varied landscapes, challenging and safe cycling, and "the world's most sustainable country," the BSGGR has something for everyone but never forgets its roots — the communities scattered across this magnificent Central European nation.
The route, which only visits green-certified destinations, crisscrosses nearly all of Slovenia, which was named the European Region of Gastronomy for 2021. Good food and wine are a part of the country's culture and since 2020 Slovenia is on the map of Michelin awarded restaurants as well. 
The Bike Slovenia Green Gourmet Route begins in Slovenia's capital, Ljubljana, from there transfer is organized to the Soča Valley. Cyclists then pedal to Brda and  Vipava Valley, roll into the Karst Region, and then take another train back to Ljubljana and furthermore towards east. After discovering the Sava River region, travelers go north to Ptuj, along the Drava River, to Maribor.
The BSGGR is a route that travels at human speed and makes nature, food, great wine, and green-certified destinations its main must-see activities. But, perhaps the most important aspect of the new itinerary is that it makes the people along the trail its most important asset.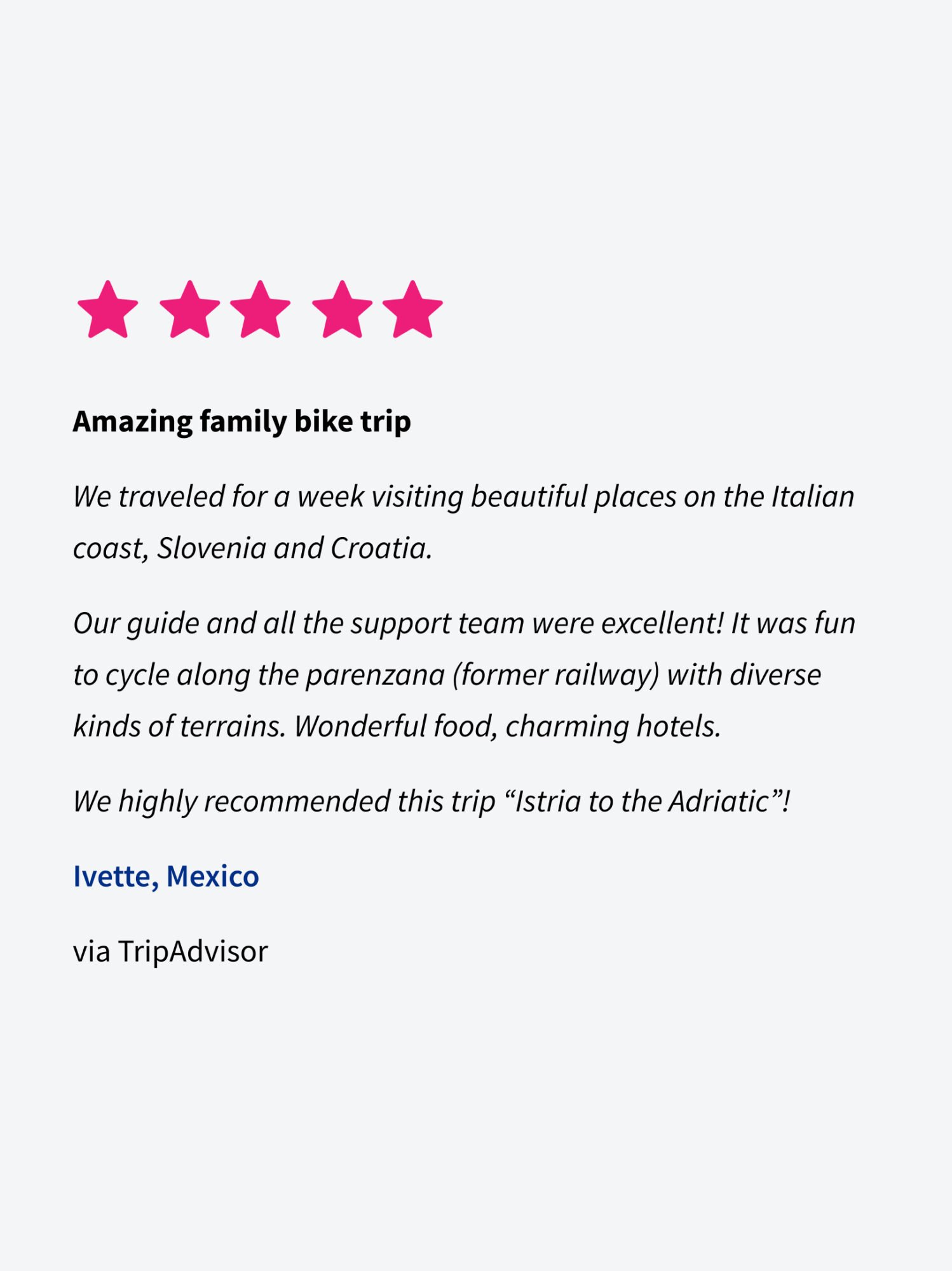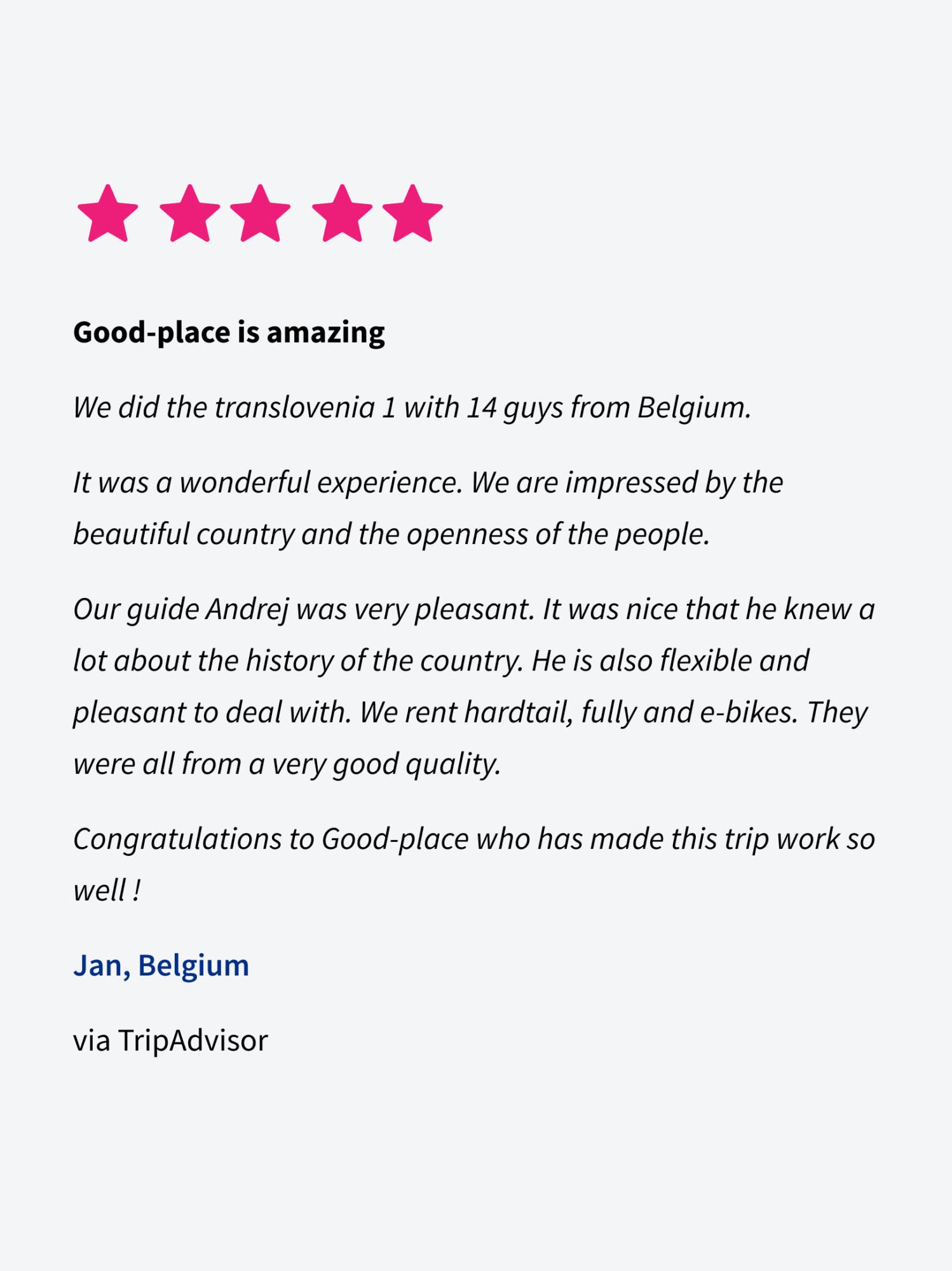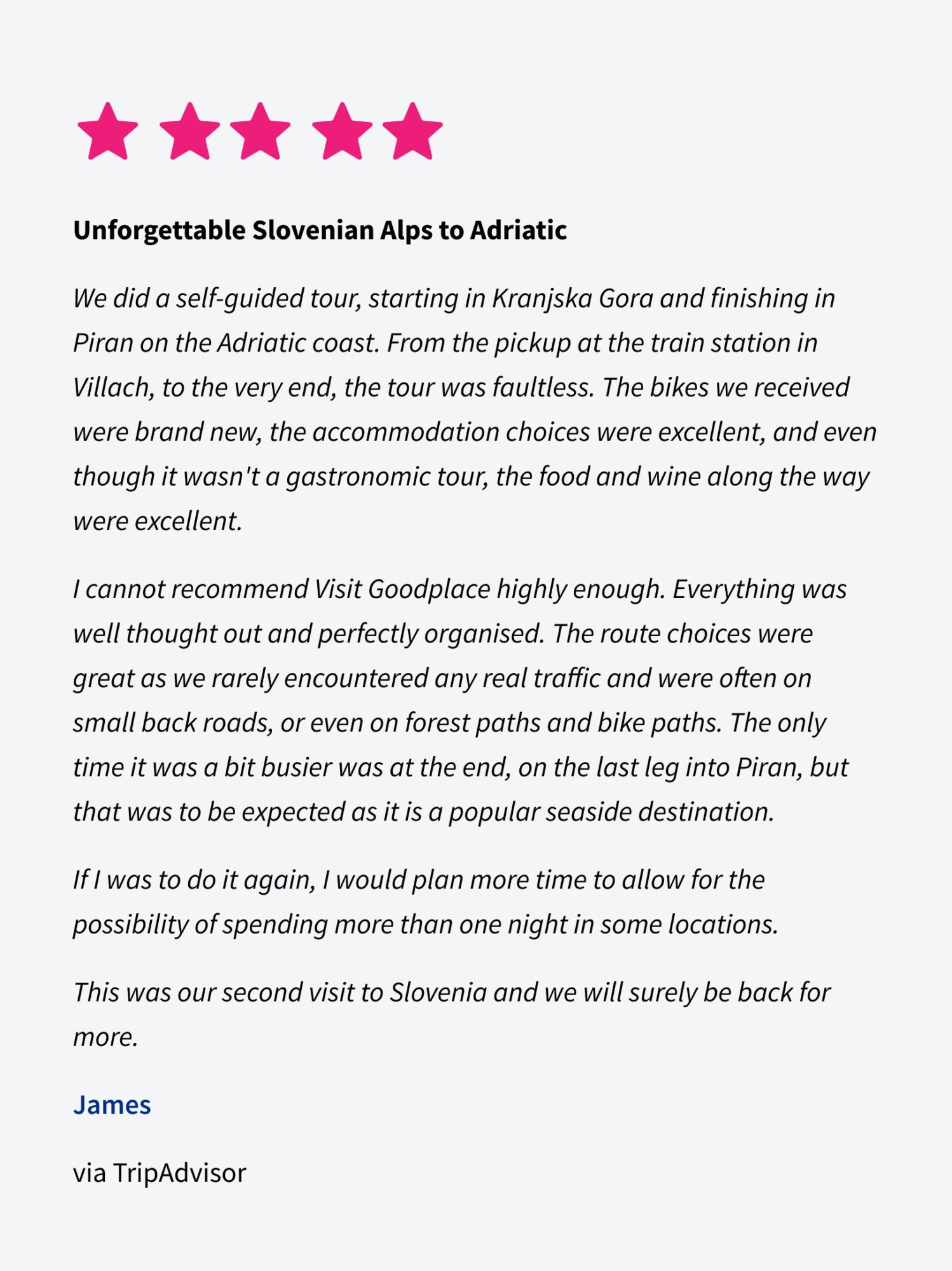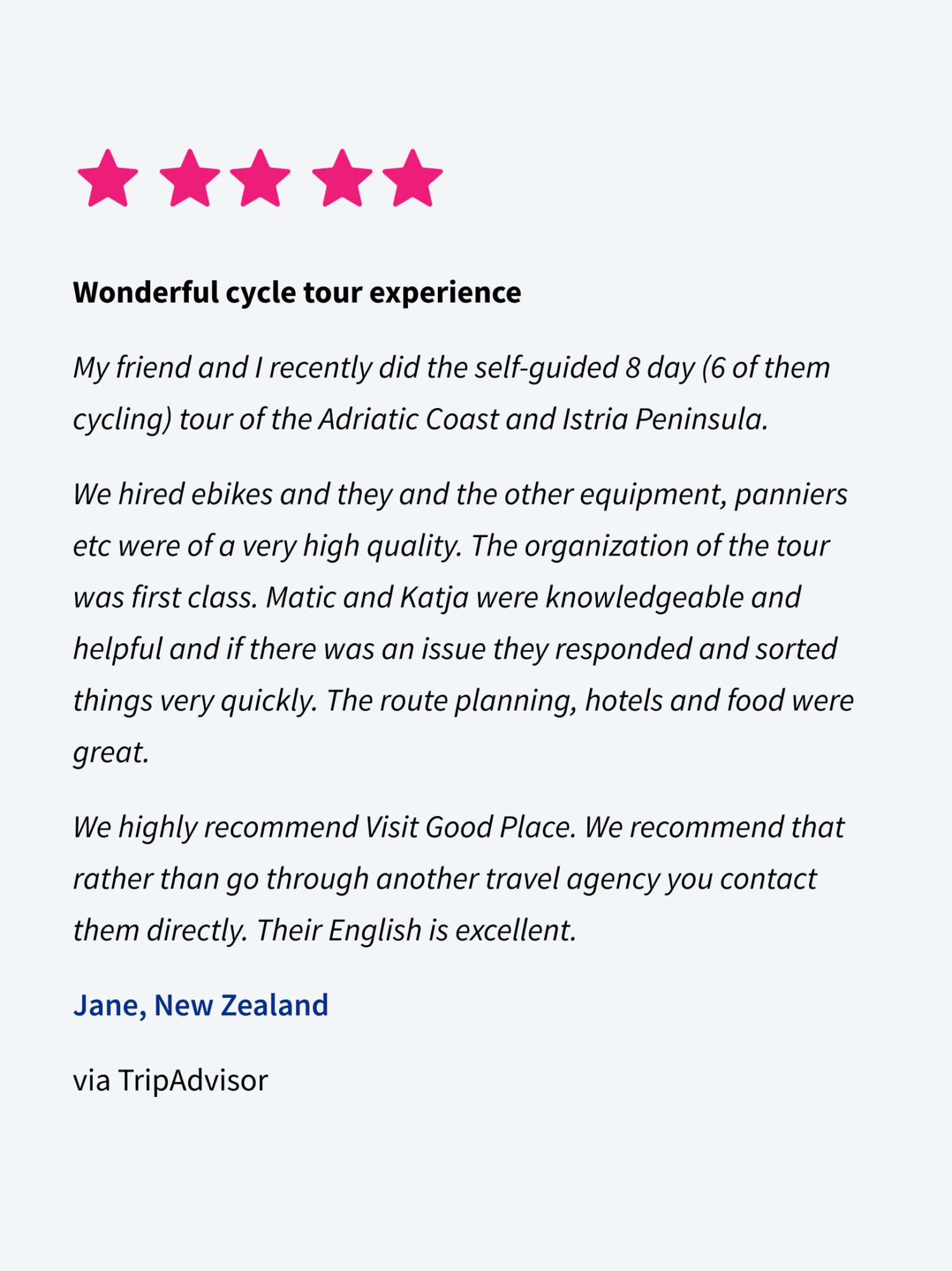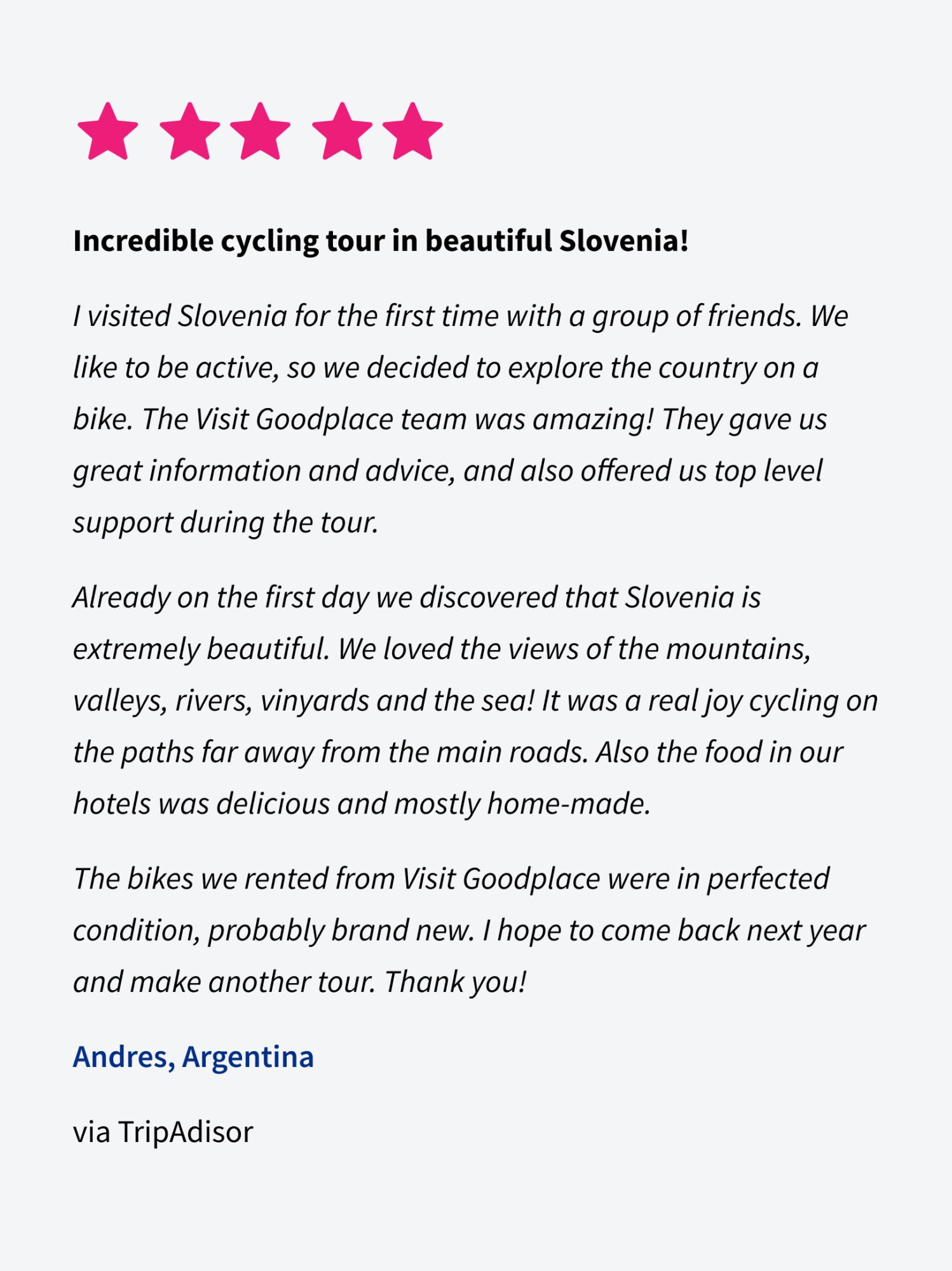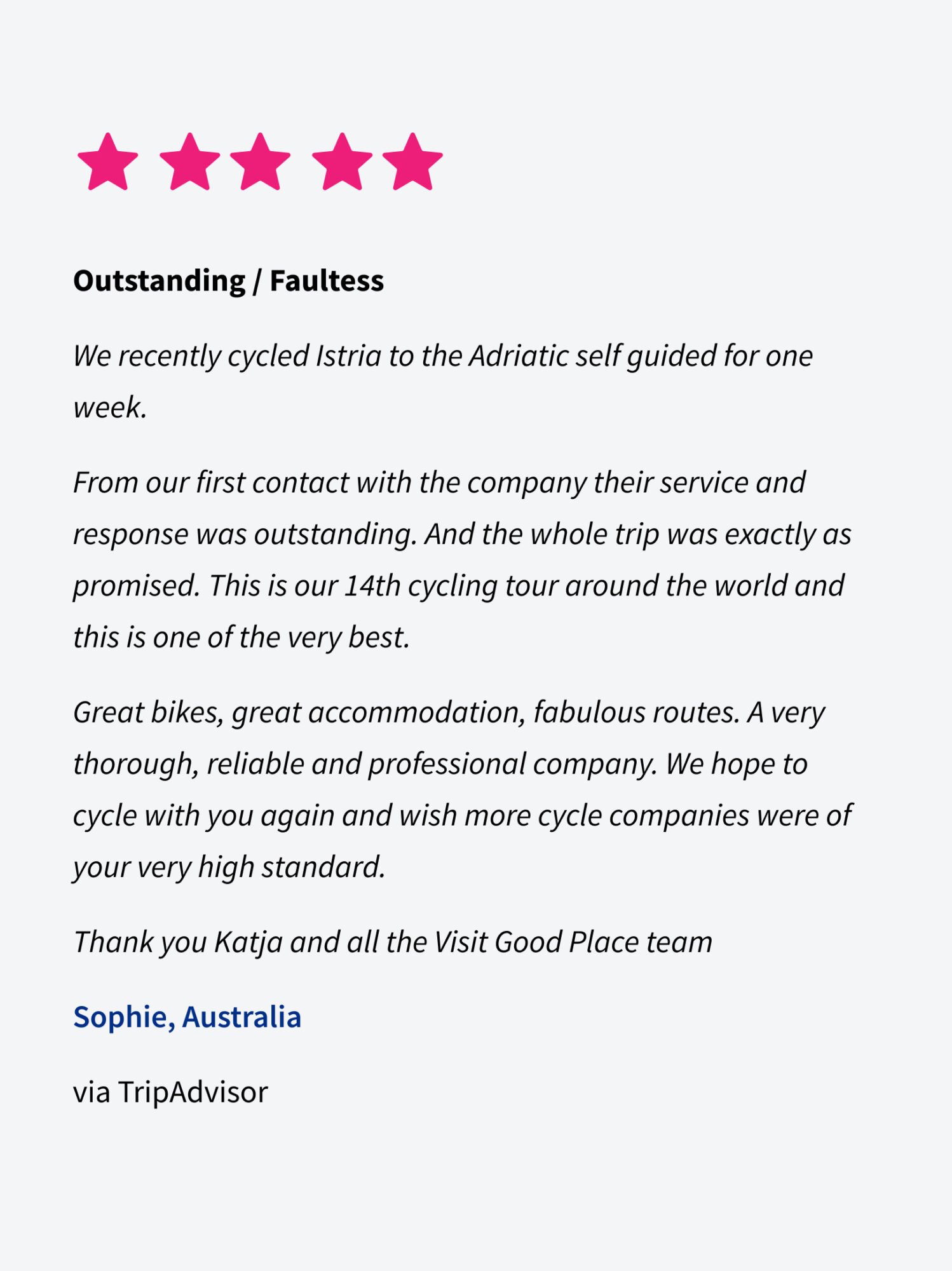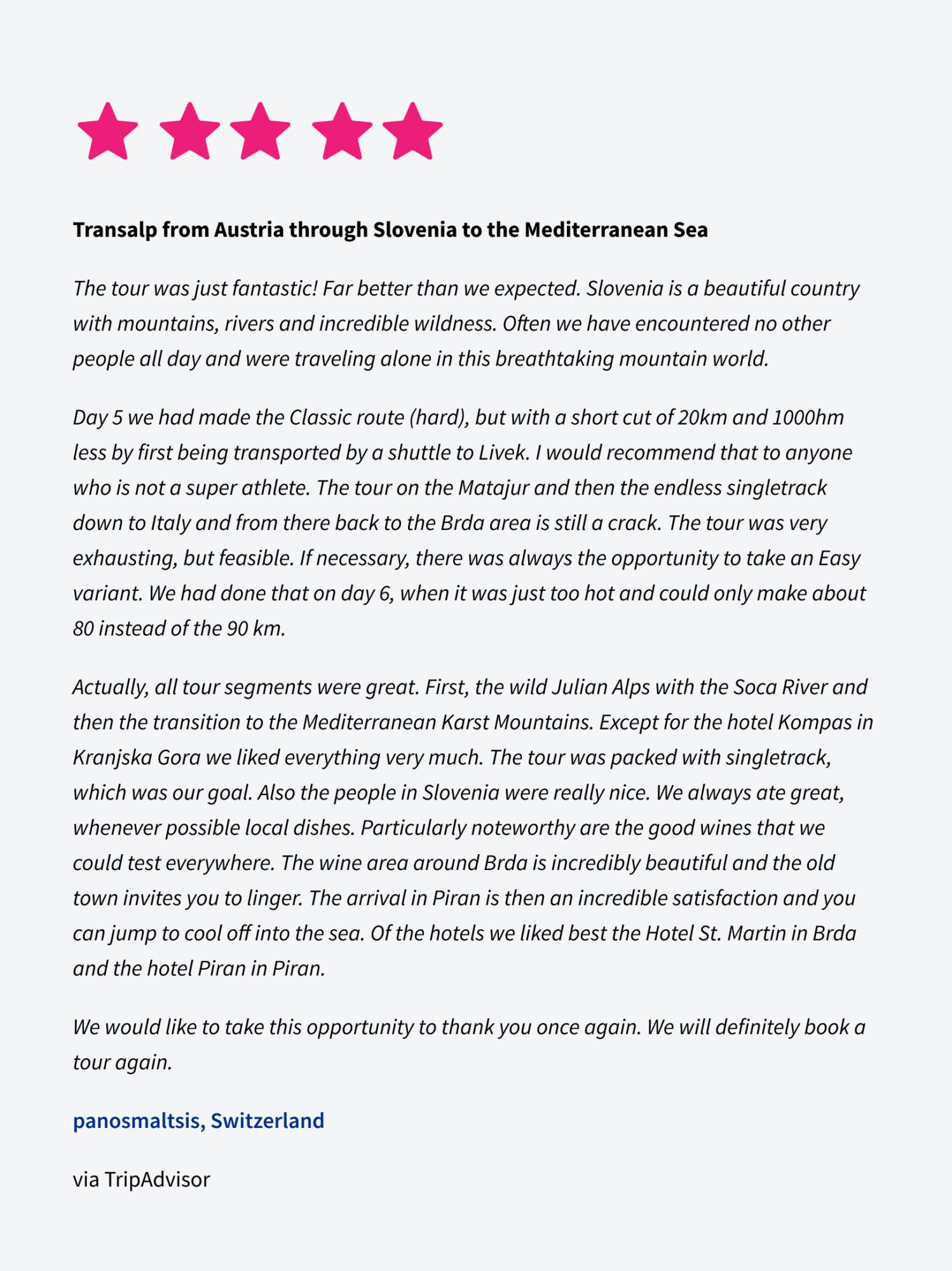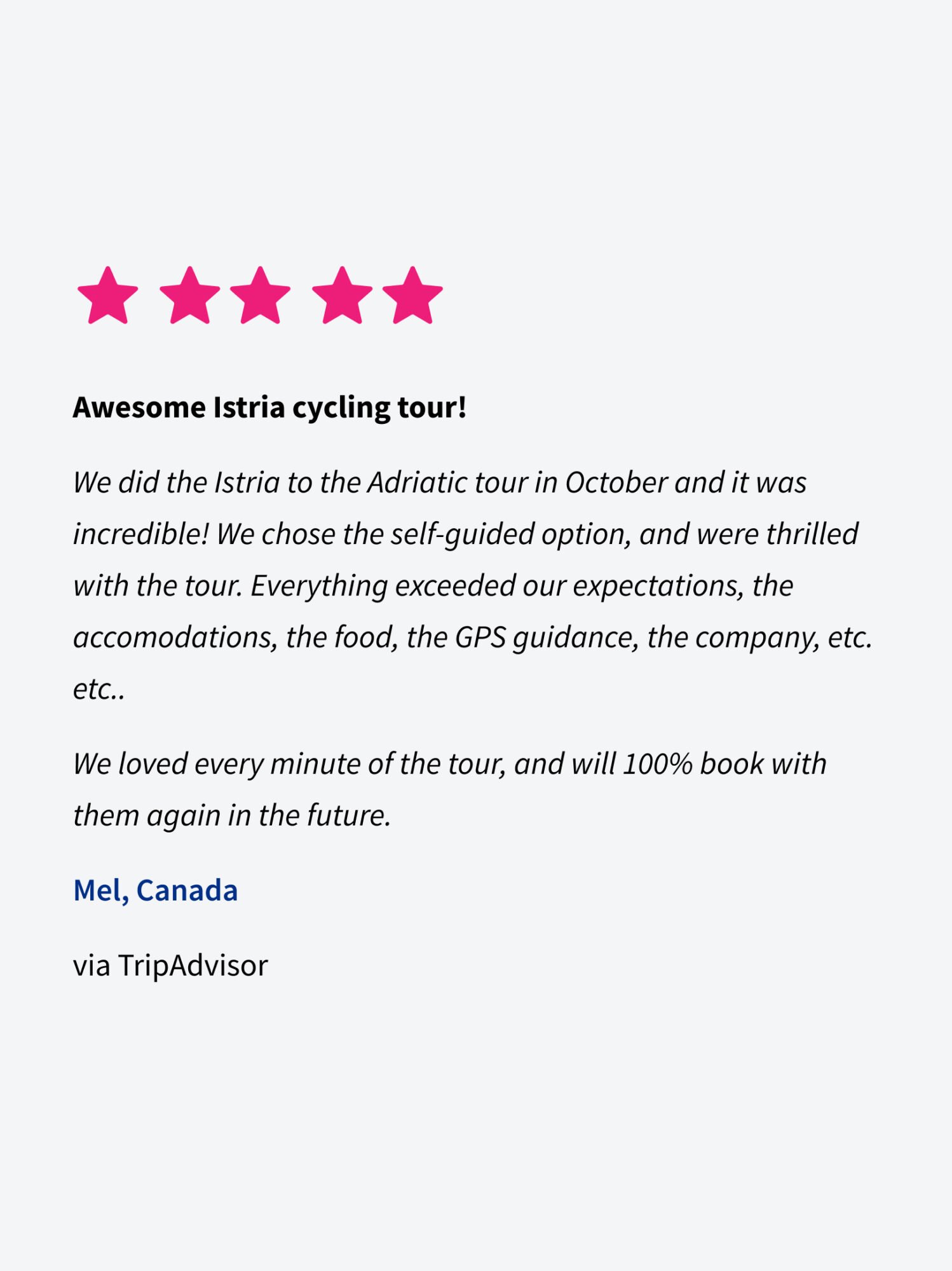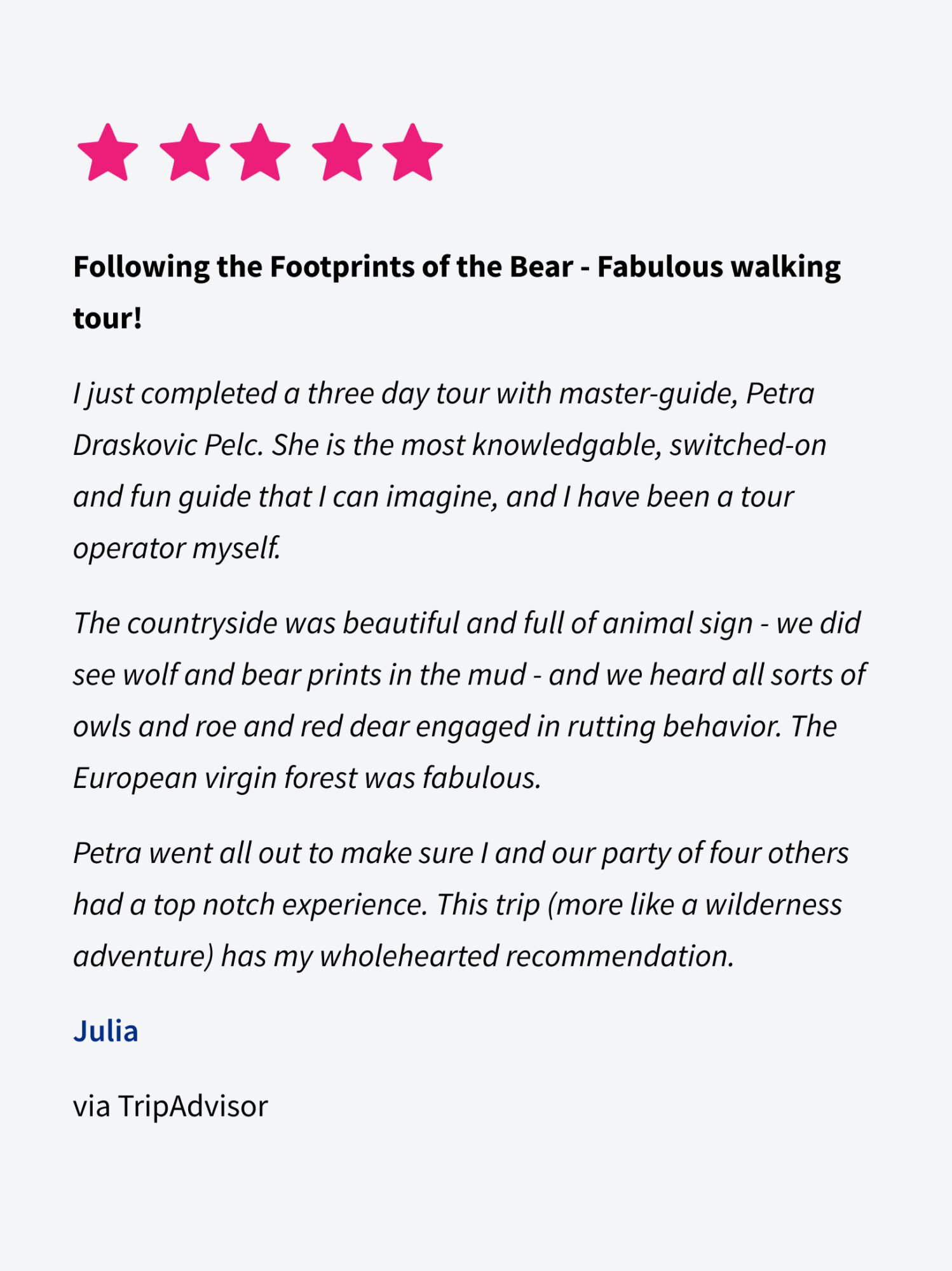 FROM LJUBLJANA TO SOČA VALLEY
After reaching Ljubljana, take a deep breath and get ready for the adventure ahead.
From Slovenia's main city, you'll have a transfer organized to Soča Valley, where the cycling adventure will begin on the next day. Soča Valley has been recognized with a Slovenia Green Gold certification.
Cyclists will overnight in Kobarid, which is one of the region's most important towns and the site of the Kobarid Museum. Besides being another magnet for biking, hiking, fishing, and kayaking, Kobarid is also the location of the restaurant Hiša Franko and its chef Ana Roš, who is the only recipient of two Michelin Stars in Slovenia. Hungry cyclists will find that many of the restaurants in the area place a priority on responsible methods and use only local ingredients.
---
FROM KOBARID TO ŠMARTNO
Distance:
55 km
Elevation:
660-1300 m
You'll start your second day with a bike ride to Tolmin. From there you'll cycle along rivers Soča and Idrijca to the train station Most na Soči. A train will take you to Kanal and from there you'll firstly be cycling on the local road on the right riverbank of river Soča and then on the picturesque cycling trail to the village Plave and all the way to Solkan. 
Leaving the emerald waters of the Soča River the route discovers a different sort of richness: wine. Heading south for just over 50 kilometers, and paralleling the Italian border, the BSGGR rolls into the Goriška Brda Region, which is actively developing its sustainable tourism offer all year round.
For a short time after reaching Solkan the cycling route leads you through the Italian side of Goriška Brda, climbing through the Oslavje and Števerjan villages. You then reach Slovenia again very soon and cycle a bit more uphill towards the village Hum.
In the place of alpine meadows, vineyards dominate the new landscape. In every direction, grapevines methodically line fields into the distance and drop behind the horizon.
For many travelers, these gentle, rolling hills recall visions of Tuscany. The region and its wineries are famous for their hospitality, but they are now becoming increasingly well known across the globe for their high-quality vintages.
After cycling through the border villages the cycling route passes the view tower in Gonjače which stands tall in the Goriška Brda and offers a fantastic, panoramic view. On the east, the Vipava Valley, the route's next stage, awaits.
Finishing your stop at the Gonjače view tower means that you're almost finished for the first day of cycling. From there you reach Šmartno village in a very short time and you can finally enjoy a well-deserved break with a view over the vineyards. The final destination of the day, the village of Šmartno, which is home to some of the most prominent wine growers in the region, offers the chance to end the day with some excellent wine tasting and a hearty local meal.
In case you'd like to choose a harder route variant for the second day, we've also prepared this option. It goes from Kobarid steeply upwards to Livek, past Nebesa and Livške Ravne high up to the Kolovrat ridge where an Outdoor museum Kolovrat is located. This First World War Museum stands right on the spot of the third Italian defense line from the First World War. After taking a look around the outside museum, moderate cycling continues through Lig, Kambreško, and just under the peak of Korada to Gonjače. After reaching Gonjače the ending of the route is the same as with the easier option of the trail. 
---
FROM ŠMARTNO TO THE VIPAVA VALLEY
Distance:
56 km
Elevation:
570 m
Though it is difficult to pull yourself away from the Goriška Brda Region, the next stage offers another full and rewarding day of excellent cycling and top-end gastronomy.
Lonely Planet wrote this about this beautiful area of Slovenia: "The [Vipava] Valley is green and beautiful, the food and wine are of superior quality. A perfect destination for a relaxed and at the same time active vacation."
This stage, which is about 56 km long, passes the Italian side of Goriška Brda for a short time at the beginning of the day. It goes to the center of Stara Gorica which is on the Italian side of the border. In Stara Gorica, you cross the border and shortly afterward join the cycling route on the outskirts of the Slovenian city Nova Gorica, which is a green destination with a golden Slovenia Green mark. 
Europa square which connects the cities Nova Gorica and Stara Gorica or Gorizia are in the near vicinity of the route. This square is a demonstration of an exceptional unity and connection between the neighboring nations. 
From there the route soon joins and follows the crystal clear and magical Vipava River, which is famous for its trout and unparalleled fishing. Placing a toe into the beginning of the Karst region, the ride will continue into another incredible — and incredibly unheralded — wine region. This is the home to the largest number of indigenous wine varieties in Slovenia.
Vipava is certified as a Slovenia Green Gold destination with its historic castle ruins, incredible wine, and food. On the way, cyclists will pass Ajdovščina, which is the second largest town in the valley and a Slovenia Green Silver destination. 
---
FROM VIPAVA VALLEY TO KOMEN
Distance:
32 km
Elevation:
650 m
Like with the Goriška Brda Region, leaving the Vipava Valley will be difficult. As is the case with every region in Slovenia, there is always the sensation that you could just stay where you are for a few more days to cycle, eat, explore, and just take in the majesty of the scenery. Once you've pulled yourself away and finished that cup of coffee while enjoying the lush green panorama, get on the bike to pedal into the Karst Region.
Heading south and rolling west to the Karst landscape that acts as a connection between the Alps, vineyards, green valleys, and the Adriatic Sea. This region is famous for its incredible caves, open landscapes, horses, and mouthwatering — and locally sourced — food.
The route of the fourth day is characterized by rolling terrain and moderately difficult riding because you'll have to gain some altitude to reach the Karst plateau from the Vipava valley. But since we've prepared different route versions for this day that vary in difficulty we can adjust it to your physical condition. The easier variant includes less ascent while the hardest variant on the other hand includes ascending to the beautiful and high Karst ridges that offer fantastic panoramic views before descending in the direction of Štanjel.
The day and 32-kilometer stage includes a climb up to Štanjel, and kicks the day 10 kilometers down the road in Komen. Among the many exciting discoveries that gourmet cyclists will discover is that this is both wine AND prosciutto (called pršut here) country. Between the towns, the Ščuka family estate, in the village of Kobjeglava, produces some of the best pršut anywhere … and welcomes guests.
In Štanjel, cyclists are rewarded with a wonderfully picturesque perched medieval village, where architecture, culture, and heritage merge. The views across the karst landscape are worth the ride alone. The real magic here happens while taking in an art gallery, seeing the castle, or visiting the Ferrari Garden. As dusk falls, relaxing in the main square with a top-end meal and bottle of wine will make anyone glad they stopped.
Just down the road, Komen is another Instagram-worthy perched village. This is also where the Slovenia Green Gourmet Route intersects with the Walk of Peace walking path, which pays homage to the First World War front line that once ran across this stretch of land. History and respect meet in Komen, a beautiful place where excellent food, wine, and cycling have also intersected.
---
FROM KOMEN TO LOKEV
Distance:
33 km
Elevation:
410 m
Cycling deeper into the Karst Region gives cyclists another day and stage — this one approximately 33 kilometers — to get to know one of the most important, beautiful, and fragile areas of both Slovenia and Europe.
The Karst region has a mind-blowing amount of natural diversity where forests, rocks, and water creates their own climate. The result of this crossroads between culture, crafts, and climate creates, as one might expect, a fantastic growing zone for fruits, vegetables, and grapes for world-class wine.
Traveling south and east from Komen, riders meander their way to the town Lipica. This is the site of the famous stud farm, where the white, thoroughbred Lipizzan horses have been bred since the 16th century.
The route ends in Lokev village.
---
FROM LOKEV TO LJUBLJANA
Distance:
10 km
Elevation:
100 m
About five kilometers away, the Škocjan Caves have been on the UNESCO World Cultural and Natural Heritage lists since 1986. As its website describes, the incredible system "is a broad network of underground caves, passages, collapse dolines, natural bridges and swallow holes. It was created by the Reka River which, after flowing for 50 km on the surface, disappears in this location into the karst underground and reappears in water sources near the Gulf of Trieste.
After visiting this magnificent Karst phenomenon you'll head towards Divača and take a train with your gear back to the capital city of Ljubljana, which is both a Slovenia Green Gold destination and arguably not just the greenest capital in Europe but also one of the most welcoming places to enjoy great food outside in the town center among visitors and locals alike.
After replenishing your energy you can get to know Ljubljana in a different light by heading on one of the guided tours, where learning about culture is intertwined with tasting food, beer, and wine. One such walk is the Moustache Tour. Other culinary outings visit the growing number of gourmet spots scattered across the metropolis.
If you are in the city on a Friday, you have to visit the Open Kitchen or Odprta Kuhna in Slovenian. From 10 a.m. to 10 p.m. dozens of chefs cook dishes from nearly every tradition and nearly every continent to an eager audience of gourmands, who have known for years what the world is starting to discover: the Slovenian capital is a gourmet capital.
As an additional cycling trip of day 6, you can optionally do circular Plečnik cycling route which lasts for 2 hours and leads you to Plečnik's heritage in Trnovo, the center of Ljubljana, Žale graveyard and Tivoli park.
---
FROM LJUBLJANA TO KRŠKO
Distance:
51 km
Elevation:
500 m
Taking in the eastern half of Slovenia makes the Bike Green Gourmet Route a truly country-wide experience.
After opening the day with a train ride east from Ljubljana, riders will deboard in Hrastnik and jump on their saddles. From here, cyclists will cross the Sava river and then follow a narrow canyon to Radeče and further on into the welcoming Posavje Valley.
Today's stage, around 51 kilometers in length, is all about relaxed, easy cycling and great wine along quiet roads surrounded by vineyards on excursions like the Castle Wine Stories of Posavje. The only exception to easy cycling is the short, but the steep final climb from Krško to Tri lučke.
What often intrigues travelers here is how little they know about this part of the country. The next thing many visitors notice is how much the region stays true to the values that have made it a land of rich bounty for so many centuries.
Though the scenery is stunning for the entire ride, staying overnight Krško makes this stage worth it all by itself. 
---
FROM KRŠKO TO PODČETRTEK
Distance:
44 km
Elevation:
900 m
The next day — a hearty 45-kilometer stage — is slightly more challenging, but no less beautiful as it rambles south and then east until it eventually straddles the Croatian border and then heads north.
At the beginning of this day's route, you'll cycle above Krško with perfect views back down to the Sava valley and afterward, after some longer climbs, reach Kozjansko. On top of a longer ascent and just above the small city called Podsreda the Podsreda castle is located. This is the most medieval castle among Slovenian castles and an information center for Kozjansko regional park is located in its basement. Kozjansko regional park is the largest Slovenian protected area and has earned a golden Slovenia Green Park mark.
The route then makes its way to Podčetrtek — a town and Slovenia Green Gold destination surrounded by nature, spas, gourmet experiences, and a chance to interact with forest and mountain wildlife in a unique way.
This area is known for numerous attractions, and nearly all fit perfectly with a cyclist's priorities when the day's ride is through.
---
FROM PODČETRTEK TO PTUJ
Distance:
61 km
Elevation:
600 m
Today, you'll wake ready for the next stage, which covers approximately 62 kilometers of rolling terrain. Soon after 10-km along the nice asphalt cycling path you'll reach the town of Rogaška Slatina. This gold-stamped Slovenia Green destination is one of the country's oldest spa sites. The mineral water, which produces the well-known Donat Mg water, has the world's highest content of magnesium.
But, Rogaška Slatina isn't only about spas and springs. There is also a wonderful wine road here. As well, the town has a long history, dating back to 1655, of glass production and with the artistry of its creation being some of the most impressive on the planet.
After Rogaška the route continues north to the ancient, yet thriving Ptuj, which is Slovenia's oldest town. Visitors marvel at Ptuj's magical lake, buzzing cobbled streets, castles, and festivals showcasing outstanding wine, food, and art.
Perhaps not surprisingly, Ptuj, which straddles the Drava River, is a magnet for visitors — especially active travelers. A tradition of wellness and spa possibilities along with a full calendar of events make this a premier stop for cyclists along the Slovenia Green Gourmet Route.
Although this stage of the route is a bit longer, you can make it even more interesting with a short but steep ascent across Haloze. From there you can enjoy marvelous views over the wine-growing hills, fields of Ptuj and Ptuj lake.
---
FROM PTUJ TO MARIBOR
Distance:
32 km
Elevation:
60 m
This stage takes you on easygoing asphalt and gravel sections along the Drava River. Today's trail, which is about 32 kilometers long, follows Drava Cycling Route and makes all of the area's incredible and lush strengths immediately available the way only bicycling can.
As riders roll to the end of the Bike Green Gourmet Route and the final destination of Maribor — a city with Slovenia Green Bronze certification — they will discover the world's oldest vine, which has its house and museum. Make sure to relax with great food and wine as your BSGGR pedaling odyssey comes to a close. The city is a hub for excellent and Michelin-recognized restaurants and bistros.
But Maribor is more than just a city with a beautiful river and wine. The city has museums, theaters, and art galleries to explore between escapes to hiking trails with panoramic photo-ops of the Drava River. Take advantage of the opportunity to enjoy Slovenia's second-biggest city and the main metropolis in the east.
---
MARIBOR TO LJUBLJANA
Distance:
36 km
Elevation:
490 m
Before taking the train back to Ljubljana, we'll spend half day investigating the cycling routes around Maribor. There are urban paths, mountain bike trails, and connections to larger networks. In all, the city is the headquarters for hundreds of kilometers of cycling itineraries through the area, region, country, and extending into Europe.
An interesting cycling leads you from Maribor to the popular viewpoint on St. Urban. From there a beautiful panorama of the second largest city Maribor opens in front of your eyes. The cycling route then leads past the village Gaj nad Mariborom to Zgornja Kungota where an excellent, one Michelin star rated restaurant Hiša Denk is located. After having a delicious multi course meal you can slowly start returning to Maribor. You can choose either to cycle along the gradual cycling trail and local roads or you can opt for an automobile transfer to the route's starting point.
Before boarding a train back to the capital Ljubljana, wave goodbye to the Slovenia Green Gourmet Route — the world's first all-green-certified gourmet cycling itinerary — and congratulate yourself for being a responsible traveler who knows that the destinations most important ingredients are its food, culture, and the people who produce them.
---
Departure day
The Bike Slovenia Green Gourme Route cycling tour ends with breakfast in Ljubljana.
---
May 11 - 22, 2023

GUIDED

June 8 - 19, 2023

GUIDED

September 7 - 18, 2023

GUIDED

May - October

*SELF-GUIDED, TAILOR MADE
*In season, tour can be organised on any date. Please contact us for individual offer.
We recommend guided cycling tours to everybody who seeks complete relaxation and wants to have only one thing on their mind – great cycling. Our guides will take care of everything else – navigation, interesting local insights, and technical support. Guided tours are also perfect for meeting other enthusiastic cyclers from around the globe and creating life-long friendships.
The price for the guided BSGGT tour includes:
11-night accommodation in 3/4-star hotels or guest houses
11 breakfasts and 11 dinners*
Fully qualified and experienced cycling guide for the entire trip
Prosciutto tasting
Wine tasting in Brda & Ptuj
Entrance fee to Škocjan Caves
Transfer from Ljubljana to Soča Valley
Train from Divača to Ljubljana
Train from Ljubljana to Sevnica
Baggage transfers between tour stages
Extensive Tour Booklet
24/7 hotline number (support)
Rates are valid per person, based on double occupancy on pre-scheduled departures. For individual departures feel free to contact us for the offer.
*All meals include good local dinner arrangements, but not in Michelin-awarded restaurants. Awarded restaurants can be included in custom tours, upon request and according to availability.
Optional:
Supplement for single room 440 €
Price excludes:
Travel and activity insurance
Personal safety and cycling equipment
Lunches
Any beverages consumed with meals that are included in the package
Any other items not mentioned as included
We recommend self-guided cycling tours to everybody who knows how to navigate a GPS device and has previous experience in self-guided cycling. If you think you don't fit this description, maybe a guided cycling tour would be a more enjoyable option for you.
The price of a self-guided tour depends on the number of people in the group and the dates. See starting prices per person based on double occupancy below.
| | | | | |
| --- | --- | --- | --- | --- |
| # | 2 | 4 | 6 | 8 |
| price | 1.890 € | 1.580 € | 1.480 € | 1.430 € |

The price for the self-guided BSGGR tour includes:
11-night accommodation in 3/ 4-star hotels or guest houses
11 breakfasts
Transfer from Ljubljana to Soča Valley
Baggage transfers between tour stages
Navigation pack: GPX tracks, link to Google map, Tour Booklet, Online briefing
24/7 hotline number (support)
Optional:
Supplement for single room 440 €
Price excludes:
Travel and activity insurance
Personal safety and cycling equipment
Lunches and dinners
Any other items not mentioned as included
Would you like to customize this tour? Are you worried you are not prepared enough physically? Would you like to select a different starting or ending point, or perhaps have a day off before, after or during the tour? Send an e-mail to info@visit-goodplace.com.
The adventure starts and ends at Ljubljana, the capital of Slovenia.
AIRPORT SHUTTLE
Ljubljana has its own international airport which is 20 min drive away from the centre of the city. Ljubljana is also surrounded by 6 international airports, those of Venice, Trieste, Klagenfurt, Treviso, Graz and Zagreb, each of them within a maximum of 120-minute driving distance. We are happy to arrange airport shuttles from any of these airports upon request.
ACCOMMODATION
We always make effort to select the most authentic and visitor-friendly accommodation and dining arrangements available at your accommodation or within walking distance. This way the tour groups can enjoy local hospitality and great food on the entire route.
ADDITIONAL INFORMATION
One guided group can include a maximum of 8-10 people.
On guided tours a briefing session is organized every evening. During briefing, the guide(s) reveal details about the next day's cycling stage, including the altitude, length, difficulty etc.
On most cycling stages alternative trail variations can be chosen according to the specific requirements of the group.
The meeting instructions and final trip arrangements are sent to participants two weeks before the tour start date at the latest.
FAQ
You can find answers to frequently asked questions here: FAQ.
Book it now or send us a message - we are happy to answer all the questions you might have.
BOOK NOW!
CONTACT US